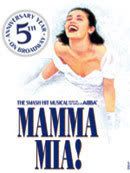 Absolutley LOVED IT!!!
We had a Fabulous Saturday today, first Boston had a Soccer game and Scored a goal against a hard team, then My Sister in Law Heather called and Invited me last minute to see the Matinee of MAMMA MIA at the "Capital Theatre"!
We Loved it, had Fabulous Seats, and Absolutley LOVED the Music!!!
If you haven't seen it yet Kelli, i highly suggest it!!
We went with My sis in law Heather, Natalie, Matt, Kelly, Candy and I... Jane we were so sad you weren't there!